Carpet Brands
Carpeting continues to be one of America's favorite ways to comfort their tired feet at the end of a busy day, and there are no signs of that changing anytime soon. You'll find all of your favorite types of carpeting and area rugs at Johnson Carpet One Floor & Home. We can help you pick the perfect carpet: one that will instantly change your room's look and feel, providing a lifetime of constant comfort.
Our Carpet and Rug Collection
Johnson Carpet One is proud to be a locally owned and operated member of Carpet One Floor & Home, the world's largest cooperative of independent flooring stores. As the region's most trusted carpeting and rug vendor, we carry many of your favorite, go-to carpet brands in our Grandville showroom, including Carpet One exclusive brands. Here, you'll find quality products by Lees and Karastan, among others. We look forward to helping you find the perfect carpet: carpeting you'll continuously count on, with confidence.
Karastan Carpet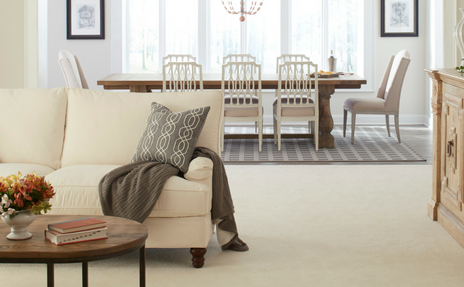 Karastan has been a fixture in luxury carpets and rugs since 1928, when it introduced one of the first machine-made rugs to have hand-made detail. These rugs were extremely advanced for the time, and Karastan even caught the public eye at the World's Fair. Then, Karastan continued to innovate with the Kara-Loc method in 1948. This introduced new colors and designs, and it took the rest of the industry 15 years to catch up! To this day, Karastan specializes in creating luxury carpets and rugs at affordable prices. Karastan carpets and rugs are durable and long-lasting, and they are also friendly to the environment.
Karastan All Pet Protection
For premium durability, Karastan offers All Pet Protection. All Pet Protection is a new fiber technology that will keep your new Karastan carpet perfectly clean. As the name implies, Karastan carpets with All Pet Protection are definitely pet- and kid-friendly! Spills and stains will not be an issue, so All Pet carpets truly are worry-free.
There are a few important features that are part of All Pet Protection. Karastan carpets with this protection will never absorb moisture, so they will stay dry and odorless. As a result, pet accidents will never be a problem. Also, All Pet carpets will repel dirt, dust, and other particles such as pet hair and dander. As a result, nothing, not even spills and dirt, will ever ruin the surface. Karastan All Pet carpets, unlike most carpets, do not have dye sites. Why is this important? Dye sites are typically where spills adhere to the carpet's surface. So, since there are no dye sites, All Pet carpets are naturally stain resistant. No special stain repellant or treatment is even required!
Our Karastan Carpet Selection
As part of our carpet selection, we can pretty much special order any style from Karastan. Let's take a look at some of our favorites:
Amazing Approach: Karastan's Amazing Approach carpets are available in 12 different shades of brown, including Organic Cork and Balsam Bark. The carpets feature Karastan's SmartStrand Sorona Silk fibers, which offer industry-leading softness and comfort. And, since these fibers have SmartStrand technology, they can handle busy households.


Viterbo: Like Amazing Approach carpets, Viterbo carpets from Karastan feature SmartStrand technology. They will therefore resist spills and stains, and they will remain strong against foot traffic. These SmartStrand fibers also are made from renewable resources, so Viterbo is an eco-friendly carpet choice.

Ashton Heights: Ashton Heights carpets feature Karastan's Kashmere fibers, which, although they are made from real nylon, are as soft as cashmere. Also, these carpets are treated with Scotchgard Protector Advanced Repel technology, so spills and stains won't be an issue.